Well, it's over. The first TechPhx happened, now a little over a week ago. I'm still recuperating! I've received a lot of feedback via Twitter, Facebook, blogs, and in person. Overall, everyone seemed to enjoy themselves and was pleased with the weekend; from the content, to the food, to the people who attended. We do have a couple of surveys we're sending out to get the good stuff to help us be even better next year, and links are included at the bottom of this post.
Personally, I am still looking back on the weekend and smiling. I know my opinion is biased, but I think we pulled off a pretty spectacular event. Nine hours of sessions with 4-6 speakers at a time, open panels where people can gather and talk about their specific craft, awesome raffle items, a food drive, food truck for lunch- and an added bonus of entertainment throughout the afternoon by a fencing club competition!
I find myself comparing it to PodcampAZ, even though I don't want to. In some ways, it's good to compare. After all, TechPhx is the evolution of PodcampAZ. We rebranded to fit what PodcampAZ couldn't hold anymore. It didn't make sense. So we kept the campy, "unconference" style, because that is what makes us different. What makes us unique. People seemed to like the fact that we encouraged them to check out other sessions (though I am not sure yet how the speakers felt). It is sort of like the freedom to choose *not* to choose. We did end up being pretty lucky though, because at the last moment we discovered we could stream video in each room, and record. For a thrown together test-run I think it went amazingly well. Miles was tireless the past week gathering every bit of content he could and putting it up on the schedule page. I think this also helps people feel more comfortable with the "Law Of Two Feet" concept. You can always catch what you missed later. I for one am grateful for this!
Attendee numbers weren't high, but for a first time, I am not disappointed. Attendance is probably the only place where I feel it's not fair to compare to past PodcampAZ events. I've always looked at TechPhx as the first. Clean slate. With rebranding comes re-introduction of the concept. Sure, you get your core 50 or 60 who have always been there supporting you, and they get it (for better or worse). However, this time we extended our reach, in speakers and in attendees. There were more faces I didn't recognize than I did. The range of speakers and the content covered a broader spectrum. Over both days we had around 170 who checked-in. I consider that a win.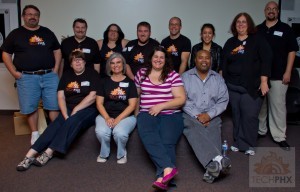 Of course none of this is possible without a group of committed people (or people who should be committed) to put it all together. For me it was strange at first. I had always been the one "taking orders"- and now I had to delegate. It didn't start out well, because I didn't have much of a plan myself. We also lost a few people, but things work out and we gained too. I think by the end all of us got into a good groove putting it together, and I need to acknowledge the organizing committee for making the entire weekend possible.
Everything from the website, securing the venue, Tech Support before and during the weekend, registration, the after party, volunteer organizing, the food drive, media kit, and of course kicking my butt to make sure I got my tasks completed could not be possible without them (I know I'm missing many things but you get the idea). Miles, Perri, Kevin, Debbie, Crystal, and Sean, you know how grateful I am. Also thanks to those who took the time to volunteer and be extra bodies where we needed them during the weekend!
Can't forget our podcast voices either- sending much thanks to CJ and Scott for lending their voices to the live stream!
I see nothing but good things moving forward with the next TechPhx. I'm so excited to watch this event continue its evolution- and you can help us figure out the direction! Please respond to the surveys below (one for speakers, one for attendees), and give us your feedback about what you thought of TechPhx. We have all ready made quite a list of our own personal feedback, but it's more important to hear back from the ones who have the most to gain from this!
*Attendee Survey
*Speaker Survey
January we start up again in planning the next TechPhx- so stay in touch with us via Facebook, Twitter, and the website!